Latest releases:
Running On Empty
In 2136, humanity makes its first proven alien contact. In 2137, James Herrick is framed for killing it.
Herrick is a small-time criminal with a streak of bad luck and an attitude to match. Past his prime, he depends on biomechanical upgrades to give him an edge, but now he's on run the run from the local crime boss, the police and the intergalactic military for a crime he didn't commit.
Herrick couldn't care less about aliens, intergalactic politics or even doing the right thing, but to save his own skin he'll have to make an exception.
Get it on Kindle, today!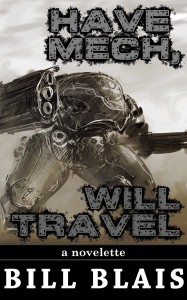 Have Mech, Will Travel
A novelette
Tsui once jockeyed mechs with the best of them, maneuvering the multi-ton machines like trained dancers, but that was a lifetime ago if you counted the years, and these days Tsui was doing a lot more counting and a lot less jockeying.
Which was why he was taking another job on another has-been mining colony on another dusty moon around another terraformed planet that clearly hadn't panned out as expected. Just like his own life.