No Good Deed on sale at midnight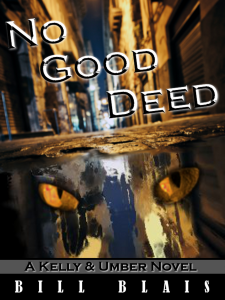 To get things rolling with my return to the site (and in anticipation of what's coming), No Good Deed goes on sale for 99¢* at oh-dark-hundred tomorrow morning (aka, 12 am, July 2)!
When the idea for the Kelly & Umber series first appeared to me, I immediately felt there was something good there, but I was not prepared for the way they continue to surprise and challenge me — no matter what kind of mess I throw at them.
Which brings me to some more news: The Devil You Know (Kelly & Umber #3) is almost ready for beta readers! I expect to finish the last tweaks of the latest draft and get it out to them before the end of July, which means it's on track for a Fall release.
If urban fantasy** isn't quite your thing, perhaps my next news will be more interesting.***
* This is my first Kindle Countdown Deal (so the sooner you pick it up, the cheaper it will be), so we'll see if I've mucked something up royally there.
** Or my take on it, at least.
*** Yep, I did the whole cliffhanger ending again. Too much?